The ProductID is a unique identification of a product. This can be a unique name or a barcode. When you use barcodes to detect the products, the product ID must be the content of the barcode.
In addition to the Product ID, you can also enter the name of the item. To do this, go to the main screen and press the Products button: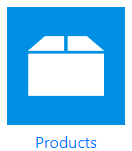 Find the product and press View Product:

You can then enter additional information about the item, such as a name and description.