Press the Out button on the main screen to register outbound goods: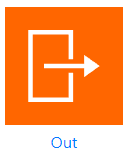 Enter the productID and fill the amount. Press Submit to process the inbound products.

If the selected item is located at multiple locations, you will be asked which locations you want to pick up the items from. Divide the number over the different locations and press submit:

Why is it useful to use the Inventory Management App for outgoing goods?
If you're looking to improve the efficiency of your order picking process, the Inventory Management App is the solution you've been searching for. With this app, you can accurately track inventory levels, automate order picking, and increase the speed and accuracy of your order fulfillment process.
The Inventory Management App is designed to help you reduce errors, save time, and optimize your supply chain. You'll be able to increase your order throughput and improve your order accuracy, leading to better customer satisfaction and repeat business.
But don't just take our word for it – try the Inventory Management App today and see the difference for yourself! With our app, you'll be able to take your order picking process to the next level and achieve your business goals more efficiently. Don't wait any longer to start optimizing your order picking process – sign up for our inventory management app now!